There are few tier lists on the web sorting the Heroes of AFK Arena based on their performances in different game content. All of those are based on the community's personal gaming experience and aim to help out players which specific heroes to focus on. Therefore, be cautious that some info in the lists contained in here may not necessarily reflect your personal experience but nonetheless remain the plausible input of many players out there.
Tier Levels
The tier lists below are mainly 3 levels based:
1-Early game (level 1 to 60)
Hero ratings in the early stages of the game where plenty of Legendary+ heroes are very useful for game progression.
2-Mid game (level 61 to 160)
Hero ratings in the mid-stages of the game, especially as many heroes will provide better performance after level 141.
3-Late game (level 161 to 240)
Hero ratings covering the end game stages, especially where Ascended hero abilities start to make a comparable difference to those of the Legendary+ heroes.
Many of the lists now also include end game ratings which cover levels 240+.
Content
The tier lists include ratings of heroes based on their performance/utility in different game content. The tier lists contained here include Hero ratings for PvE (campaign and King's Tower), PvP, Arcane Labyrinth and Guild bosses Wrizz and Soren. Some of them include overall hero ratings.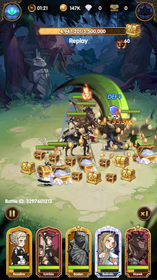 (photo: Guild boss Wrizz)
Tier Rankings (Legend)
Most of the tiers use the below rankings for Hero ratings
-Tier SS/S+ : Overpowered/exceptional heroes
-Tier S : Powerful heroes
-Tier A : Very useful, balanced heroes
-Tier B: Slightly underpowered but good heroes
-Tier C : Under-powered, average heroes
-Tier D : Situational, very under-powered heroes
-Tier E/F : Heroes with no substantial usefulness
(photo: GloriouS Guild tiers guide)
Tier List Sites
Here are some notable tier list sites:
GloriouS Guild tier list created and updated by the guilds' players
-afk.arena.net Endgame Tier List
-afkarena.net Unofficial Hero Tier List
You may also find few other tier lists posted by players in the official Afk Arena Discord server
(created by Paspartu S44 id:4526955)
Community content is available under
CC-BY-SA
unless otherwise noted.