The Big Giveback is an event ranging from August 18, 2021 - September 30, 2021. Patronize Rowan's store daily to receive coupons that can be used to exchange rare resources such as emblems and hero choice chests!
Be sure to save your coupons until the final 3 days of each month to receive a 50% discount on all goods!
Characters
Background
"Come and take a look Rowan's Trading Firm! The Big Giveback is about to commence!"
The little chap with the red hair has once again appeared in the town market pushing his little cart, calling out to potential customers, while his little duck is sat atop his head, excitedly flapping its wings.
A trading firm? Nobody would call a rickety old cart a company. But one should not underestimate this lad, the little duck sat upon his head is no ordinary character. He'd only been here a couple of days, but already he had emptied everyone's pockets. Some people love him, other's detest him, calling him nothing more than a "profiteer", as they actively try to avoid bumping into him in the market.
According to him, this so called "event" is to build the reputation of the firm and accumulate loyal customers. But I'm not gonna believe anything he says. I think he's just out to part us with our hard-earned money again.
"You don't need to spend a penny! Just come take a look! You'll even get an exquisite item, for free!"
Free you say? Sounds like a great deal. After all, what harm could just taking a look do? Don't even think about cheating me! I haven't even a penny on me!
Guide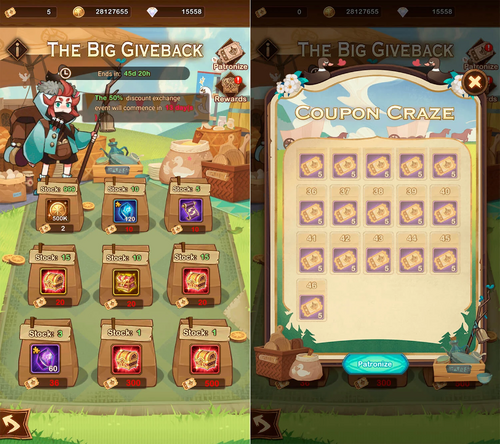 During the event, players can patronize Rowan's store by signing up at Rowan's store daily to receive a Merchant's Coupon. Merchant's Coupons can be exchanged at Rowan's store for corresponding rewards.
Players that fail to sign up at Rowan's store and miss out on a Merchant's Coupon can spend 200 Diamonds to supplement 1 missed coupon.
During the event, all goods for sale will be discounted by 50% on the final 3 days of each month.
Surplus Merchant's Coupons will be automatically refunded after the event according to the price stated in the description.
Merchant's Coupons

A small, crude looking coupon, marked with the image of a duck's foot. It's impossible to forge. (Surplus Merchant's Coupons will be recalled by Rowan for 125k Gold each, after the event).
The total amount of coupons each player can earn for free: 5 × 46 + 40 = 270  Coupons. This is enough to get the Celestial/Hypogean hero chest when it's 50% off.
Rewards
Note: The costs of these items will be discounted at 50% off during the last 3 days of each month.
| Item | Cost | Stock |
| --- | --- | --- |
| Gold | 2 Coupons | 999 |
| Rare Soulstones | 10 Coupons | 10 |
| Reset Scroll | 10 Coupons | 5 |
| Reward Choice Chest (1000 Poe Coins or 100 Twisted Essence) | 20 Coupons | 15 |
| Eternal Choice Chest (100 Elemental Shard or 50 Elemental Core) | 20 Coupons | 10 |
| Emblem Choice Chest | 20 Coupons | 15 |
| Elite Soulstones | 36 Coupons | 3 |
| Hero Choice Chest (Belinda, Fawkes, Vurk, Kren, Tasi, Raku, Kelthur, or Izold) | 300 Coupons | 1 |
| Hero Choice Chest (Elijah & Lailah, Zaphrael, Khazard, or Mortas) | 500 Coupons | 1 |