Secrets of the Forest is the third adventure in the Peaks of Time campaign. It unlocks upon completing stage 8-4 in the main campaign and at least 60% of The Unrelenting Blaze. The player will receive an the Dura's Eye Artifact to equip to one of their heroes as the main reward for this adventure. Enhancement tokens, rare and elite gear, gold, diamonds, faction scrolls, and Hero's Essence can also be found throughout this peaks stage.
Lore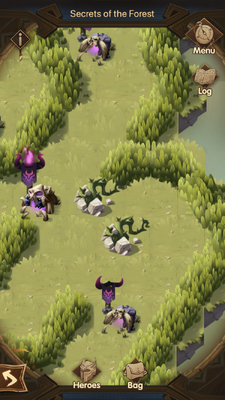 There are countless discoveries to be made within the forest. Those that dare venture into it often find it hard to find their way back home again. It's also said that only those who've passed its trials are worthy of revealing its secrets.
Video Guide
For a written guide on obtaining the crystal treasure chests, visit here.
Description
Overview
Total Enemy Camps: TBA
Total Crystal Treasure Chests: 4
Total Gold Treasure Chests: 14
Total Fountains of Vitality: TBA
Total Shrines of Life: TBA
Total Mercenary Encampments: TBA
Transcript
Starting Dialogues
Death's Denier . Raine : Legend has it that the forest was created to hide one of Dura's artifacts.
The Burning Light . Mirael : Dura's artifact you say? Let's keep on searching and see if the legend is true. That artifact would definitely help us in our fight against these ungodly demons.
Enemies
Community content is available under
CC-BY-SA
unless otherwise noted.