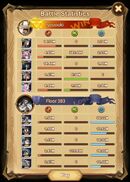 This is a replay feature to key Campaign stages and King's Tower floors. Players can view other player's successful formations via the replay feature.
The player can view:
10 replays of the key сampaign stages 
3 replays of each floor of king's tower

"The King's Tower, once the beacon of mankind was an illustrious gleaming tower from whence the old king ruled over his kingdom. It wasn't until the old king was betrayed by his younger brother, Prince Edwin, that the tower began its descent into darkness. The tower in which so many cruel deeds took place now stands enshrouded by darkness as if it were a monument to evil."
.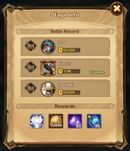 If you are having difficulty completing a stage you can use the help from Stage info details. In the «Stage Info window» you have 2 buttons to view the details of the passage «Battle Statistics» and «Formation».

The battle statistics page allows players to see how much damage their heroes have dealt/received and also see the total amount of HP a hero has healed others for.
The statistics provide the following information:
Team Composition
Damage Dealt
Amount Healed
Damage Taken
Play button starts playing a fragment of a section of a player's record.
On the Formation page (player avatar), you can see detailed player information on the leveling, gear, signatures and artifacts used at this stage, just click on the icon of the prefer hero.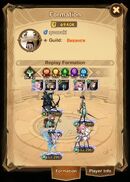 Compaign Stages

Also at key Campaign stages you can see combat statistics by clicking on the button «Winning Formation".
Even if you likely don't have all the heroes but you can also use this as a strategy to plan which heroes you're going to level up and ascend for end that stages.
.
ID: 3263883 Ryououki S32