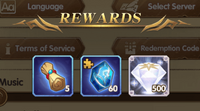 Redemption Codes are given during special events and updates in AFK Arena. The Redemption codes are published on Discord in the "Events" section.
How To Redeem: Tap on your player avatar in the top left-hand corner of the game, find "Settings" and select "Redemption Code".
Here is a list of all the codes that were given together when and what were the rewards:
Currently Active Codes
AFK888 - 20k Gold, 100 Hero's Essence, 300 Diamonds
Confirmed Expired Codes
u9rfs27rd9 - 1000 Diamonds
u3gpi6heu6 - 1000 Diamonds
Afk2020 - 300 Diamonds, 3 Common Hero Scrolls, 180 Common Hero Soulstones
christmas2018
s4vyzvanha - 100 Diamonds, 10 Elite Soulstones, 60 Rare Soulstones
g8jv646a3y - 200 Diamonds to celebrate support of the AFK Arena FaceBook page
happynewyear2019 - 2019 Diamonds (New Years 2019)
m6h4wepz7u - Gwyneth hero (Mid-Autumn Festival code) - expired 2019-09-19 15:59:59
AFKLAUNCH
DADISAFK2019 - 500 Diamonds (Father's Day 2019)
bunnyfufuu – This was one of the many YouTuber codes
2019mothersday - Free 500 Diamonds (Mother's Day 2019)
j8wspdd8rk – This code was for a YouTuber promotion (July 2019).
JENRMB3N3A - Awards 500 Diamonds, 5 Common Scrolls, and 60 Rare Hero Soulstones
pqgeimc6da - 300 Diamonds
thanksgiving2019 - 300 Diamonds, 60 Elite Soulstones
afknewyear2020 - 300 Diamonds, 60 Elite Soulstones
Lunar New Years Codes:

1fanfengshun - yīfān-fēngshùn (一帆风顺) a Chinese idiom that means for something to go smoothly. We wish you smooth sailing in the land of Esperia!
2longtengfei - èr lóng téng fēi (二龙腾飞) literally means 'two dragons flying up'. This idiom is used to wish someone progress and personal advancement. Just as we're wishing you quick progress in the campaign!
3yangkaitai - sān yáng kāi tài (三羊开泰) is a Chinese equivalent to 'New Year, New Opportunities'! We wish you your AFK Arena experience to be filled with amazing opportunities and prosperity!
4jipingan - sì jì píng ān (四季平安) means safety and peace all year round. We would like to extend those wishes to you and your loved ones!
5fulinmen - wǔ fú lín mén (五福临门) is a Chinese way to wish five blessings upon your home: longevity, wealth, health, virtue and peace. Spread those wishes to your family and friends!
66dashun - Liù liù dà shùn (六六大顺) means 'two sixes together foretelling good luck', as number six is very lucky in Chinese culture. We wish you lots of luck pulling new heroes in AFK Arena!
7xinggaozhao - Qīxīng gāo zhào (七星高照) is a Chinese idiom that means for seven stars to shine to guide you. We hope for your future in AFK Arena to be as bright as ever!

Yuanxiao - 60 elite soulstones, 300 diamonds
rvgv3b8g4i - 60 Rare Soulstones
mrpumpkin2 - 300 Diamonds - 5 Common Hero Scrolls
tt9wazfsbp - 1000 Diamonds
happybday0409 - 5 Chest of Wishes  - 10 Hero Scroll - 500 Diamonds
misevj66yi - 500 Diamonds, 5 Common Hero Scrolls, 60 Rare Hero Soulstones
Don00001 - 3000 Diamonds
te9gig7y58 - 1000 Diamonds
Where To Redeem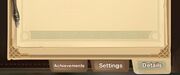 Clicking on your portrait in the upper left-hand corner pulls up the Player Details page.

From there, on the lower right corner, you can see tabs that say Main Page and Settings.

Opening up the Settings Page will reveal a variety of options to adjust your gameplay experience. The bottom right button says Redemption Code. Pressing it opens a prompt to enter in a redemption code. If it is currently active and functioning, you'll receive the reward.
Community content is available under
CC-BY-SA
unless otherwise noted.