Redemption Codes are given during special events and updates.

Here is a list of all the codes that were given together when and what were the rewards:
Currently Active Codes:
afknewyear2020
Rewards: 300 Diamonds and also 60 Elite Hero Soulstones

Confirmed Expired Codes:
christmas2018
g8jv646a3y - 200 Diamonds to celebrate support of the AFK Arena FaceBook page
happynewyear2019 - 2019 Diamonds (New Years 2019)
misevj66yi - 500 Diamonds, 5 normal Summon Scrolls and 60 Rare Soulstones
m6h4wepz7u - Gwyneth hero (Mid-Autumn Festival code) - expired 2019-09-19 15:59:59
AFKLAUNCH
DADISAFK2019 - 500 Diamonds (Father's Day 2019)
bunnyfufuu – This was one of the many YouTuber codes
2019mothersday - Free 500 Diamonds (Mother's Day 2019)
j8wspdd8rk – This code was for a YouTuber promotion (July 2019).
JENRMB3N3A - Awards 500 Diamonds, 5 Common Scrolls, and 60 Rare Hero Soulstones
pqgeimc6da - 300 Diamonds
thanksgiving2019 - 300 Diamonds, 60 Elite Soulstones
Where to redeem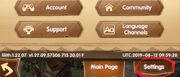 Clicking on your portrait in the upper left-hand corner pulls up the Player Details page.

From there, on the lower right corner, you can see tabs that say Main Page and Settings.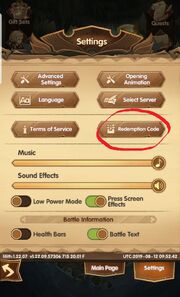 Opening up the Settings Page will reveal a variety of options to adjust your gameplay experience. The bottom right button says Redemption Code. Pressing it opens a prompt to enter in a redemption code. If it is currently active and functioning, you'll receive the reward.
Community content is available under
CC-BY-SA
unless otherwise noted.