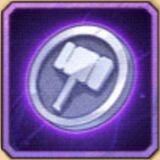 Rare Enhancement Tokens are used to upgrade your gear.
In order to get another star on the equipment you need to spend Gold and enhancement grade points.
Each Rare Enhancement Token gives you 1000 enhancement grade points, and because of that, they will be your primary source of enhancement grade points.
Rare Enhancement Tokens, while rarer than Common Enhancement Tokens, aren't very hard to obtain and you can get them quite easy by participating in events and completing in-game quests.
A solid way to earn your tokens is completing missions in Peaks of Time, rewards from those quests often are substantial amounts of Rare Enhancement Tokens. You can also buy then for diamonds in the store.
Community content is available under
CC-BY-SA
unless otherwise noted.