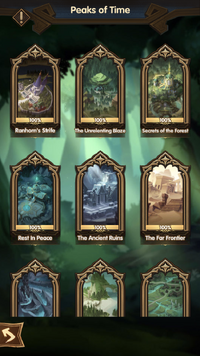 The Peaks of Time are adventure puzzles in AFK Arena. The main purpose is to find all of the treasure chests on the map. Each stage offers one-time-only rewards, so they need to be 100% completed at least once. This feature can be unlocked upon completing Stage 6-4 in the main campaign.
Lore
According to Legend, the Peaks of Time were created by Honas, God of Creation, in order to allow him watch over all of his creations in the past, present and future. It was said that when Dura fell to the earth, the last remnants of her being fell onto the high peaks of the mountain and were scattered, breaking up into seven divine artifacts that lay hidden somewhere within its interior. Only when all seven of the artifacts are brought together, will the world have a chance to return to a state of peace.
Information
There are some powerful artifacts that can be found in some of the chests. These artifacts can be equipped on your hero to power them up and provide them with unique bonuses.
You can start and finish any level as many times as you want, so don't worry if you fail it.
The difficulty of each adventure does not scale with your player level, so you can eventually out-level them for an easier time.
There are two types of chests: Crystal & Gold
Crystal Treasure Chests can contain artifacts, and finding a certain amount of them on the map is required to progress onto the next adventure.
Unlocking each individual peak requires 60% completion of the previous stage, and completion of a specific stage in the main campaign.
Peaks
Video Guides
Note: Video Guides (excluding Ranhorn's Strife) made by Discord Contributor Elerion. Kindly thank him when you drop by discord.
Community content is available under
CC-BY-SA
unless otherwise noted.