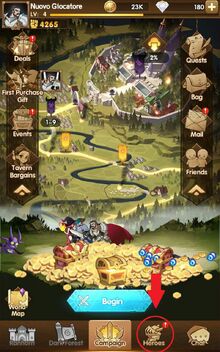 The heroes menu is located in the bar at the bottom of the screen, in between the Dark Forest and campaign menus. From here, one can access four tabs: Formations, Popularity, Heroes, and Portraits.
FAQ
Question
Answer
My hero slots are full, what can I do?
You can retire common heroes at the Rickety Cart to free up some space, other tiered heroes can be ascended at the Temple of Ascension. Another option is to purchase more hero slots.
How can I increase my hero slots?
Different VIP levels will offer a different amount of hero slots, you can also use diamonds to increase the slot amount.
How is Hero's Essence used?
Hero's Essence is used to level up heroes. Hero's Essence is needed at level 11 and 21. Aside from level 11 and 21 Hero's Essence is also required every 20 levels.
I have some equipment but certain heroes cannot equip it. Why?
All heroes have a particular class. Heroes may only wear equipment that matches their own class. You can check a hero's class by viewing it at the "Heroes" tab.
What does the faction icon on some armors represent?
Faction items, when worn by a hero of that faction will receive an additional attribute bonus. Equipment that possess faction iccons are somewhat rarer than other types of equipment.
How do I unlock hero skills?
When the hero is promoted to a certain level, the corresponding skill will be unlocked. In the hero skills interface, click on the skills to view the corresponding details.
What are hero factions and what use do they have?
A hero's faction can be seen at the upper left corner of the hero's avatar. All factions have advantages and disadvantages, depending upon which faction they are fighting. If your hero has an advantage over another faction i.e Wilders > Graveborn, then they will deal extra damage to that faction. Factions can also raise your formations overall damage. If there are multiple heroes of the same faction teamed together they will gain an attribute bonus. Aside from this, certain quests and ascension requirements will specify certain faction heroes before they can be met.
How do I increase my heroes' levels?
Select the "Heroes" tab and choose the hero you'd like to level up. You can tap or hold down the "Level Up" button to increase their level. Leveling up heroes expends Gold, Hero Exp, and Hero's Essence; which are mainly harvested while you are AFK.
How do I raise my heroes' ascension tiers?
You can ascend your heroes at the "Temple of Ascension" by expending the resources required for ascension. Raising a hero's ascension tier raises their overall attributes and further raises the maximum level the hero can reach. Ascension generally requires the expenditure of certain heroes of the same faction or the same name and ascension tier.

Take Estrilda as an example:

Elite + Elite = Elite+ Estrilda.

Elite+ Estrilda + any two Elite+ Lightbearer heroes = Legendary Estrilda.

Legendary Estrilda + Elite+ Estrilda = Legendary+ Estrilda.

Legenadry+ Estrilda + any Legendary+ Lightbearer hero = Mythic Estrilda.

Mythic Estrilda + any Legendary+ Lightbearer hero = Mythic+ Estrilda.

Mythic+ Estrilda + two Elite+ Estrildas = Ascended Estrilda.

How do I enhance my heroes' equipment (gear)?
Once a hero has equipped some gear, the gear enhancement option will appear. Only rare tier equipment and above can be enhanced.
is 240 the maximum hero level?
After all five heroes in the Resonating Crystal have reached level 240, you can upgrade the heroes' levels by upgrading the Resonating Crystal.
Heroes
In the Heroes section all the heroes the player owns are shown. Heroes are characters the player can use in order to progress and participate in events, the arena, and all other activities revolving around the game. Heroes can be leveled up and equipped with gear and artifacts; with additional options to strengthen the aforementioned and the hero's signature item. Heroes possess skills unique to themselves which allows for a good synergy among other heroes.
All heroes belong to a faction, and are further distinguished with a Class, Type, and Role of their own. However, heroes below Mythic ascension lack a class altogether and instead possess two roles: a primary and a secondary.
The portraits of the heroes have frames of different colors based on their rarity:
| | | |
| --- | --- | --- |
| Green | Common | |
| Blue | Rare | Rare+ |
| Violet | Elite | Elite+ |
| Yellow | Legendary | Lengendary+ |
| Red | Mythic | Mythic+ |
| Silver | Ascended | |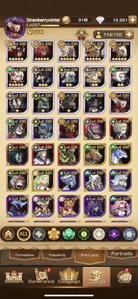 Moreover if at the corners of the box there are two inserts, it means that the hero will be a plus (for example elite plus, legendary plus). Common heroes cannot be ascended, they will always remain common even though they can level up to level 100. All Elite or higher heroes can be ascended through the building called the Temple of Ascension, the level of ascension determines the maximum level that can reach a hero.
If there is a red exclamation mark on the portrait of a hero it means that the player has better equipment that can be assigned to that hero. At the bottom of the page there is a bar with which heroes can be sorted to be viewable by faction, type, and class.
Clicking on a hero leads to their personal page where the rarity and the story of the hero is shown above the gear worn. Popularity is also shown, wherein players can view the most commonly used artifacts for that hero, how popular the hero is in specific game modes, and what formations they are most commonly used in.
Lower down in a box shows the type, class, role, level, life, attack and defense of the hero; clicking on the diamond with the exclamation point grants access to a tab that shows all the attributes in addition to those already shown: Crit Rating, Accuracy, Dodge, Haste , Recovery, Magic Resist, Physical Resist, Life Leech, Crit Damage Amplification, Crit Damage Resistance, Insight, Tenacity, Health Regeneration, Received Healing, Attack Speed, Crit Block Rate, Physical Pierce, and Magic Pierce.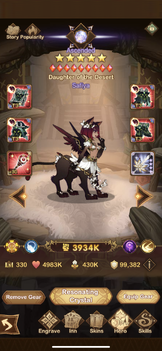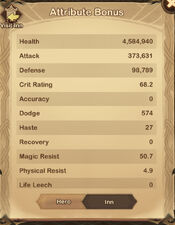 At the bottom of the page players can access the hero's skills, whereupon clicking, the hero's skills are shown instead of their equipment. By clicking on the individual skills players can read a description and the level necessary to unlock further upgrades. The bottom of the page also features Eternal Engravings where players can illuminate glyphs in order to raise hero attributes and strengthen hero abilities, the Hero Furniture Abilities, and the applicable skins of the hero, if any.
Portraits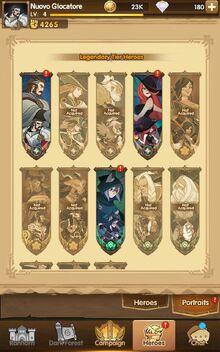 The portraits page shows all the heroes in the game divided according to the maximum degree of ascension they can reach and sorted by faction. By clicking on a portrait, players can see an overview of the hero, similar to the setup found when accessing a hero from the hero tab. However, the portrait page features the option to view detailed information about the signature item and exclusive furniture of each hero.
Additionally, at the bottom of the screen, there is the Arena of Heroes button with which players can try out the hero in a mock battle against an undefeatable enemy used to hone one's fighting skills.
Formations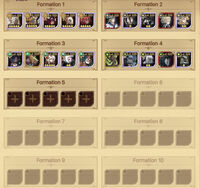 In the formations section, players can create a pre-set team of 5 heroes to easily access and place into battle while progressing in areas throughout the game. Up to 10 formations can be created at a time.
Players can also automatically copy and save formations they see on the popular formations board by tapping and holding down.
Popularity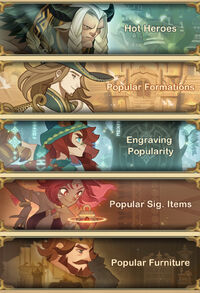 The popularity tab grants insight on the most popular heroes, formations, signature items, and furniture; based on a range of differing players' choices from within the campaign, at different stages.
The 'Hot Heroes' board displays heroes with high popularity rankings that are shown to be used more frequently than other heroes for a particular type of battle (such as specific campaign stages, specific towers in King's Tower, different modes in the Arena of Heroes, and different bosses in The Twisted Realm). The board can be sorted by Hero Classes, Hero Types, and Factions.
The 'Popular Formations' board displays the formations that are most frequently used in different game modes.
The 'Popular Sig. items' board denotes that the higher a hero's ranking is, the more players have chosen to enhance the Signature Items belonging to these particular Mythic tier heroes over other heroes. The list can be sorted by Hero Classes, Hero Types, and Factions; and it only displays data for +30 enhanced signature items.
The 'Popular Furniture' board is sorted based on heroes with a higher popular ranking being shown to have been given more Mythic Exclusive Furniture than other heroes. The list can be sorted by Hero Classes, Hero Types, and Factions; and it only displays data for 9/9 Exclusive Furniture sets.
The 'Engraving Popularity' board is sorted so that heroes with a higher ranking are displayed because players are more frequently investing resources into boosting their engravings levels.
Hero List
All usable heroes are listed below.
How to Obtain
There are multiple ways to acquired Ascended Tier Heroes in the game.
With the exception of Dimensional Heroes, players can summon all the Ascended Tier Heroes in The Noble Tavern or stargaze them in the Stargazing Room. Other ways include Elite Hero Cards and Elite Soulstones. Players can also acquire these Heroes from special Events. They can also be traded for coins in the Store. Finally, they can also be bought in special Deals from the Merchants.

However, Dimensionals can't be acquired the same way.
Gallery