A Dimensional Key is an item in AFK Arena used on dimensional heroes linked with other heroes, so that these heroes can be used in the same formation. You need one key per linked heroes.
Guide
Equipping Dimensional Keys allows Dimensional Heroes to be placed in the same formation together with their fused counter-part.
Equipping the Dimensional Key shall bind it to the Dimensional hero.
Dimensional Keys can be removed at any time, but will require 300 Diamonds.
Players cannot use Dimensional and linked heroes in the same team formation unless The Tail Star is unlocked in Field of Stars!

You will have the Dimensional Key after that: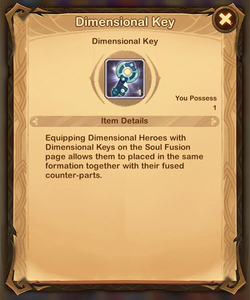 To use the Dimensional Key, simply go to the Soul Fusion page in the Temple of Ascension and put your key into the placeholder as shown below: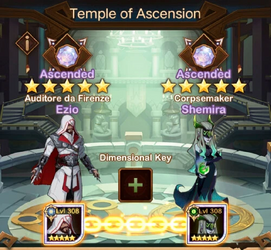 Acquiring
Dimensional Key are acquired by completing by the constellation The Obsidian Finch in Field of Stars
You can Acquire +1 Dimensional Key when you unlock these constellations
The Tail Star - Posses 15 Ascended or Higher Tiered Heroes Effect: Dimensional Key Quantity:+1
Star of Brilliance - Posses 25 Ascended or Higher Tiered Heroes Effect: Dimensional Key Quantity:: +1
The Obsidian Feather - Posses 35 Ascended or Higher Tiered Heroes Effect: Dimensional Key Quantity: +1
The Rolling Flame - Posses 45 Ascended or Higher Tiered Heroes Effect: Dimensional Key Quantity: +1