Deals or Gift shop like this feature was called before, is an in-game shop when you can buy packages for money. It has 3 permanent tabs and 1 or more additional tabs with event-related packages. The tabs are: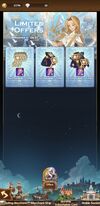 Visiting Merchants Tab with deals that grant you event-related items (e.g. keys in Celestial Isles event). This tab is not a permanent one.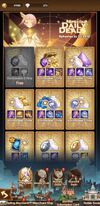 Merchants Ship Tab with 3 sub-tabs: Daily, Weekly and Monthly deals containing various packages refreshing daily, weekly and monthly respectively. There are many various offers in all three tabs, containing almost every item you can find in the game.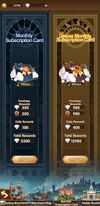 Monthly Subscriptions Card where you can find 2 types of monthly subscriptions, both granting Diamonds daily (100 Diamonds with Monthly Subscription Card and 400 Diamonds with Deluxe Monthly Subscription Card). You can have active both types of subscription simultaneously and when you buy a subscription when it is active, its duration increases accordingly. Both subscriptions have good value per money spent.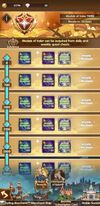 Community content is available under
CC-BY-SA
unless otherwise noted.