Bountiful Trials is a recurring event located in Arena of Trials. It allows for players to test new or majorly reworked heroes while simultaneously earning rewards. Players have to make strategic formations with the trial hero and four other specifically given heroes to win each fight.
Background
The Arena of Trials is a place brimming with magical energy. In come respects, it doesn't truly exist in the real world. It's more like a fantastical, magical-borne mirage. Nevertheless, the danger of this mirage is very real. With trial upon trial and ordeal after ordeal, those who have successfully obtained the treasure are a precious few indeed!
Guide
If a hero's Bountiful Trial commences, that hero's Arena of Trials will be reset.
After being reset, multiple battle stages in the Arena of Trials become available. Players may claim rewards for every battle they win. When all battle stages have been completed, players may claim the final reward chest.
After the event has ended, players can re-play battles, however, no new rewards will be available.
All enemies are reset each time a player re-enters the Arena of Trials.
All heroes used in the Arena of Trials have a default ascension tier of 'Ascended' and hero level of 240. Heroes are equipped with non-upgraded Mythic T1 gear that does not utilize factional gear bonuses.
Rewards
The following rewards can be obtained by collecting all of the gold chests:
Guild Trials
Main Article: Guild Trials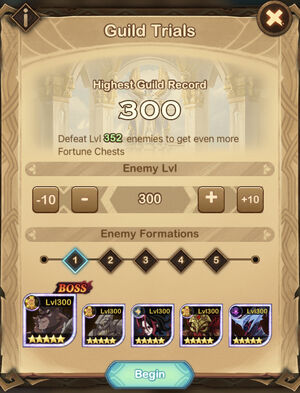 Guild Trials is a feature available within each Bountiful Trial. Here, Guild members can use heroes from the Guild's shared hero bag to defeat the preset enemy formations and get high scores.
This event has a duration of 14 days. After the event has concluded, players may still continue to test formations but shall not receive any rewards.
During Guild Trials, guild members' heroes that have reached Legendary+ may be used by all guild members.
Duplicate heroes cannot be used, only the hero with the highest Combat Rating within the guild can be used.
Players that do not belong to a guild are unable to view Guild Trial Formations.
Current Bountiful Trials
Past Bountiful Trials