Abyssal Aid is a Dismal Maze mode event ranging from September 16, 2021 - September 30, 2021. Fight in teams of 3 players and claim the treasures of the treacherous Arcane Labyrinth. You can even "Quick Battle" through Dismal Maze if a member of your team completes it.
Guide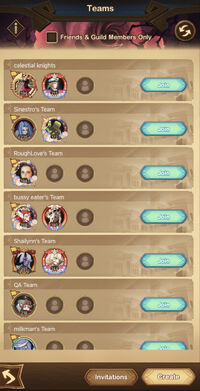 During the event, all players can form small teams to participate in the Dismal Maze.
Each small team is comprised of 3 players. Once the team is full, the Maze event may commence.
Heroes that reach Legendary+ can be shared among members belonging to the small team. Duplicate heroes are not permitted, only the hero with the highest Combat Rating will be retained.
When a player uses another member's hero, the hero shall retain their ascension tier, gear, Signature Item level, Oak Inn furniture level and Eternal Engraving level. The hero's level will be adjusted to match the user's own Resonating Crystal level.
If any member of the small team completes the Dismal Maze, members of their team may then use the "Quick Battle" function to quickly complete the maze and receive the maze rewards.
If a player joins a small team but misses the maze event, they will be unable to increase their rewards.
If a member requests to leave their team after the maze event has started, they must first wait until the next round of the event has been refreshed before their request will take effect.
You cannot use the Demonbreaker within the Dismal Maze while forming a team.