Abyssal Aid is a recurring Dismal Maze mode event. Fight in teams of 3 players and claim the treasures of the treacherous Arcane Labyrinth. You can even "Quick Battle" through Dismal Maze if a member of your team completes it.
Guide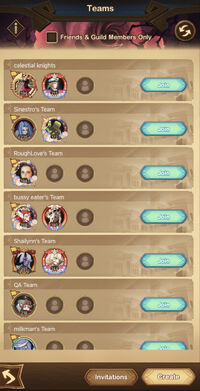 During the event, all players can form small teams to participate in the Dismal Maze.
Each small team is comprised of 3 players. Once the team is full, the Maze event may commence.
Team members are able to share their Resonating Crystal heroes. Heroes that are Legendary+ can be shared by all team members. Duplicate heroes are not permitted, only the hero with a level 30 Signature Item and 9 Mythic Furniture pieces will be prioritized for selection. Garrisoned heroes with fewer than 2 days remaining will not be entered into team formations.
When a player uses another member's hero, the hero shall retain their ascension tier, gear, Signature Item level, Oak Inn furniture level and Eternal Engraving level. The hero's level will be adjusted to match the user's own Resonating Crystal level.
If any member of the small team completes the Dismal Maze, members of their team may then use the "Quick Battle" function to quickly complete the maze and receive the maze rewards.
After joining a small team, reward bonuses for missing the Arcane Labyrinth will not be counted when rewards are calculated.
If a player within a small team has yet to enter the maze, and has not used the Sweep feature, the increased reward bonus will remain intact after they leave their small team.
If a member requests to leave their team after the maze event has started, they must first wait until the next round of the event has been refreshed before their request will take effect.
You cannot use the Demonbreaker within the Dismal Maze while forming a team.