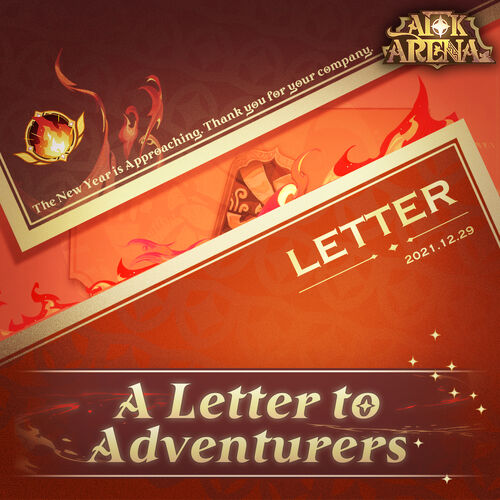 The Adventure Continues — A Letter of Thanks from Don, 2021
Season's greetings, everyone! I'm AFK Arena's producer, Don.
It has been a while since I last wrote to you all, but I am always in the forums, closely following the discussions. Some of the more active players feel like old friends to me, and when any familiar ID goes quiet, I feel their absence deeply.
We set out to create a journey for adventurers and heroes to meet each other, stories of people solving problems together. Looking back on the last two years, we realized that these stories have a timeless theme—a testament to each other's growth, a sense of duty and responsibility, and a life spent in pursuit of something more. It was this magical world of adventures that helped us through these two years together.
Being friends with our players has always been our business philosophy. You could say it has even become part of our doctrine. Interacting with you pushes us to grow, and while we are working to make strides in game design, we also want to keep our hearts and our ears open for our players.
Talene - The Resurging Flame was a relatively bold experiment for us. As an all-new card, Talene - The Resurging Flame is vastly different from Talene in terms of skill design and position. We did not intend for her to be a replacement for Talene. Rather, we wanted to give players more opportunities to strategize, to enjoy a greater variety of options for different circumstances.
We want to tightly control the rate at which new heroes are introduced. We are currently working to have one every two to three months. Other than Celestials, there will also be Awakened Heroes from the four common factions. Due to a powerful combination of hero skills, we decided to add limits to how Awakened heroes are used, for example, an Awakened hero cannot be placed on the same team as its original, non-Awakened counterpart. The original frequency for new cards will not change, but Awakened heroes and traditional heroes will not be released together. Future Awakened heroes and storytelling will be inextricably connected, just like with Talene - The Resurging Flame. We hope to become true storytellers, to bring people an emotional connection to our heroes, a value outside of their battle stats.
Other than the many emblems coming out in the upcoming events (Awakened hero summon scrolls), you will also be able to get emblems in the following ways:
Exchange a limited amount daily at the Store
Reach a designated floor in the Celestial Tower
Emblems have been added to the Deluxe Monthly Card added as a new option
After the first Awakened hero from each faction is released, tower quests to earn their corresponding emblems will become available. We hope everyone will see just how brightly the first Awakened hero, Talene - The Resurging Flame, really shines as you fight together.
There are a few more things we would like to chat about with everyone. We would like to introduce a new playing style for the Arena of Heroes to make it more fun and less mechanical. We are also considering relaxing the restrictions for access to the Cursed Realm and adding a Battle Wager system to it. We welcome everyone's feedback and suggestions!
I would like to give my heartfelt thanks to those who have stuck with us these past two years and everyone who has played or followed AFK Arena. I am delighted and honored to have come to know you all through this game.
A solo adventure is not a complete adventure, so, in 2022, I will join everybody in continuing to look forward to the endless possibilities and incredible imagination that AFK Arena can bring.
Gift Code: happy2022
Valid Until: January 30, 2022
Redeem it here: https://cdkey.lilith.com/afk-global (Redemption Code)