Welcome to AFK Arena's beginners guide - Diamonds
AFK Arena is an idle RPG game, in which you will collect, evolve, and ascend a variety of different heroes. In order to get far enough, lets say, in the Campaign or in the King's Tower (check buildings guide), you will need to evolve and equip these Heroes over the time. Don't stress, it's pretty normal to get stuck sometimes, just keep collecting your afk rewards now and then and keep battling, cause you will for sure defeat them. Also, look out for promo codes and events. These will rewards you with lots of cool stuff, such as summoning Scrolls, free Diamonds and even heroes. 
In this guide, I will talk about a really important currency in the game and the best ways to use them. 
Diamonds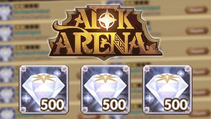 First of all, Diamonds in AFK Arena are a type of currency that you can check in the top right corner of your game screen. These are used to buy a variety of stuff, such as gear, Hero's Essence, enhancement tokens and more importantly hero summons.  
There are many ways you can obtain these diamonds: 
if you can spend real money, simply buy them in the shop, there are a lot of pretty good deals and subscriptions; 
you can aquire diamonds by going trough the campaign (each 4 stages); 
you can get them in king's tower in every stage you defeat; 
promo codes or events give you a lot of free diamonds; 
completing daily, weekly and campaign quests will reward you a lot of diamonds; 
the developers, will actually gift lots of diamonds to your mailbox, each time the servers are down for maintenance, or even for bug fixes and errors: 
each time you collect a hero, you can go to your heroes tab, and then collect 100 diamonds for each new hero you summoned in the portraits tab; 
in the Wall of Legends (check buildings guide) you can collect them too, each time a new player reaches a certain amount of ladder points; 
Arcane Labyrinth (check buildings guide); 
in peaks of time, each adventure will reward you diamonds too; 
As you can see, there are plenty of ways on getting diamonds in this game, i listed 10 of them, but there are more. Just keep collecting those diamonds. If you are free to play, I recommend spending them in The Noble Tavern. You can get 10 summons for 2700 diamonds (300 cheaper).