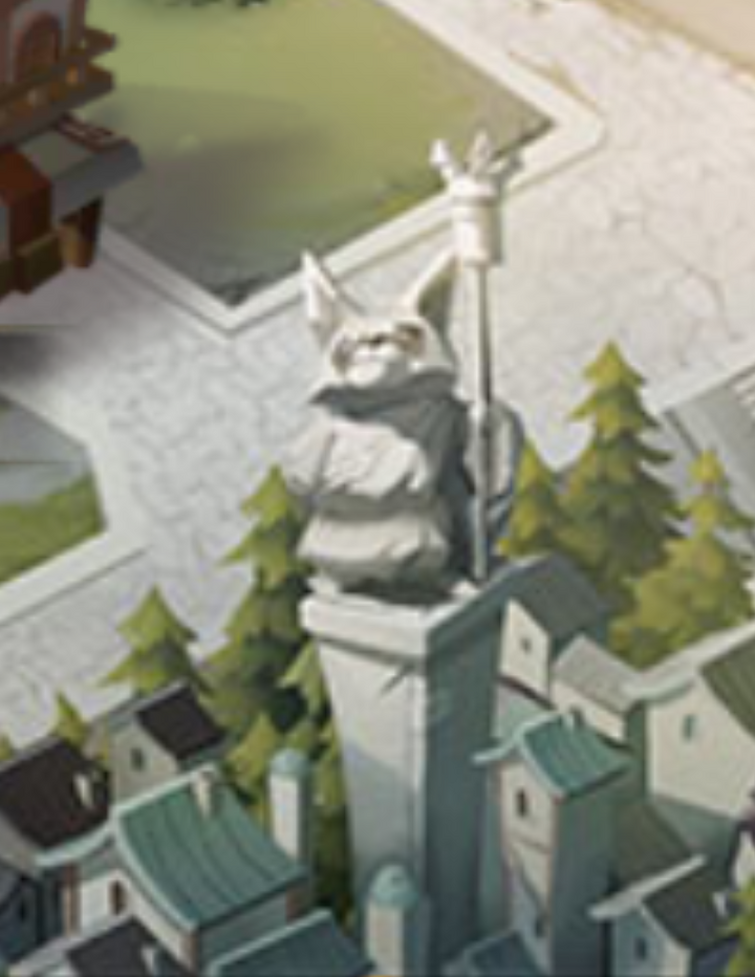 The druid Ambathrobas (short form Athro, which he prefers) is the current mayor and Grand Defender of Ranhorn during the war against Annih and his offspring generals.
Born in the old woods of Oakenrath, he always honoured nature and looked out for both flora and fauna. One day he met a wise man called Arden, who was impessed to see someone having similar powers to his own ones. He offered him to join his druid circle, to train and define his talents. Athro always felt that there was something else slumbering inside his mind, something forceful yet elusive, just like a vague tune one sums naturally, so he agreed upon the offer.
After many years of researching and studies in Arden's Circle, he indeed gained a seldom power: The power to manipulate small snippets of time itself.
Arden was very impressed about this talent but had no clue how to train it even further. So he sent Athro to the near city of Ranhorn, where his friend Belinda lived. Back then she was running the grand Library with contained rich knowledge, and he believed that she could help find out, what strange source these powers came from. However, the forest acted strange and Arden sensed the arrival of something evil. He warned his scholar to be careful and even gave him a little nightingale as a company on his way to Ranhorn.
But that night, Athro never arrived in the city and Arden's vision came true faster than anybody could have imagined. The moment Athro stepped out of the forest and saw the dark valley below him, his blood froze to the core. Like a black stream, an army of countless demons was quietly marching through the darkness towards the Gates of Ranhorn! Full of despair and not knowing what to do, Athro sent a prayer towards the sky: "Dura, help our souls or our time has finally come!"
And Dura heard his prayers.
Because it was almost midnight, when the demons were at their zenith of might, even Dura needed support. So she called upon her sister Io, the Goddess of the Moon, to help defend the city of Ranhorn against the evil army, led by Vaash, the youngest Son of Annih. At the last minute, Io was able to shine her light so that the city guards could see the approaching danger.
This nocturnal invasion is still known in all history books as "The Battle at Midlight", when at one point the darkness was disrupted by a forceful beam of moonlight, shattering the enemy hordes before they could reach and ransack the heart of Ranhorn: Dura's Crystal. But it wasn't Io alone, who cleansed the land from evil. It was Dura speaking through Athro, who, when Io's shine was at it's utmost intensity, naturally chanted a tune which he never heard not learned before. Together, their powers fused to a phenomenon, which erased Vaash and his hordes and in the years to come, everybody talked about the Battle at Midlight.
Hero Info
Faction: Wilders
Tier: Ascendable
Class: Mage
Skills:
??NIGHTINGALE'S CALL: At the beginning of battle, Athro is releasing a small magical bird that has the power to turn day into night. The night lasts for 30 seconds, within that period all friendly heroes gain +25 Dodge. Agility based heroes additionally gain +9% (12/15) Attack Rate. Enemies gain -20 (25/30) Accuracy

?⏳SEEDS OF TIME: Athro grabs some earth and whispers druidic incantations. Then he throws 1 (2/3) seeds into the air. If they hit enemies, their energy bar is suffering -100 (200/300) energy. If they hit team members, their energy is replenished by +100 (200/300) energy.

?MOONSHINE (Ultimate, only works at night): Athro calls upon the moon goddess Io who sends a beam of pale light onto the battlefield. He and his team is healed by 33% of their max. health, whilst the enemies suffer 180% (210/240) of his Attack Rate as damage

?NULLIFY (passive): The first ultimate skill that is triggered by the enemy team is vanishing with no effect into a crackling time void (leaving the caster stunned for 3 seconds).
Signature Item: The Nightingale's Staff
(Signature Skill: Nightingale's Call)
The night period is prolonged by +10 seconds
[+10 unlocks]: At night, Crit Rate of the own team is increased by +15%

[+20 unlocks]: The night lasts for 50 seconds

[+30 unlocks]: The night lasts for 1 minute straight and afterwards, when Athro's energy reaches and stays at maximum, his Attack Rating is increased by +10% per second. However, if the energy is reduced by enemy skills, his Attack Rating stops growing until the energy bar is full again.
Voice lines:
"Take your time, I will!"

"Fly and sing your song, my little friend!"

"May the Goddess of the Moon aid us again."

"Feel the light cleanse your evil!"

"Time took it's toll."
Thanks for reading!✌?
Name: Rae
In-Game ID: 139832
Server: S4