Alrighty let's dive right in for the free players of AFK Arena as I share the tips in tricks picked up by another free player such as myself ?Prevail?. The first thing you'll notice when you start AFK Arena like most rpg's if the kind and such(but this isn't your average one?) is that you'll get copious amounts of diamonds for completing almost any task in the door. Do NOT, spend a single diamond on armor in the store. Those you will get for FREE later in the game eventually, and we're all about free right. Unlike most games this is one of the games like such that isn't solely out to take your pockets so what you should do with all of these precious diamonds (Myyyyyy precioussssss?) is use them all for Summons X10. Don't pull single summons because they don't work with the wishing tree aspect as well as you saving at-least 300 diamonds. Hey, we're not being cheap just playing smart. Do your daily, weekly, and campaign missions to get maximum rewards as much as you can to increase level,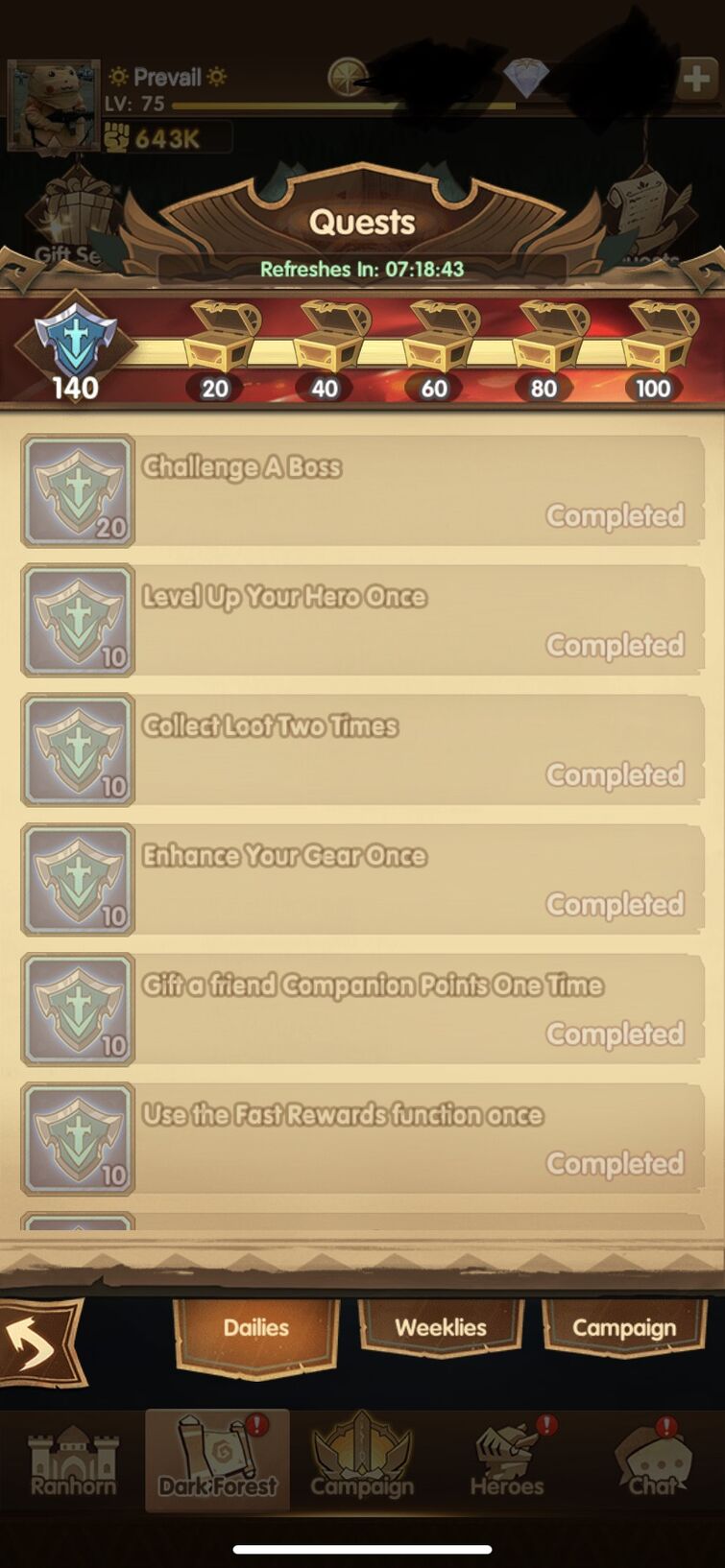 diamonds, and strength of your heroes. Me being your ?, I'm going to shed it in the darker areas of the game where free players feel left out at and how to overcome them. One of the biggest thing in AFK free players have going against us are duplicates and fodder. Harder to get later on when you're a free player since you've more than likely completed the quicker and easier campaign quests that gives us most our diamonds so now we will resort to weeklies dailies and in some situations events. When summoning if you aren't summoning what you need, don't rush because you feel behind. Remember the game is set around your pace, not your guild mates or people in chat. ??‍♂️Just because they have certain heroes or equipment doesn't speak for yourself. Don't rush and merge heroes that you will regret merging to make a quick ascension. Learned that the hard way. It'll take time but you will get a balanced team. Even some spenders are unluckier than some free players (and I happen to be one luckkkkkyyyy???free player despite the fact that any hope of summoning another Lucius curves me???). Time after time you'll feel as if your X10 summons are in vain, but worry not all of those summons will eventually bring you a epic hero when they reach a certain amount of points. A plus to being free is atleast you didn't spend money and miss your summons ?. Cheer up, I know you want that second Brutus or Tasi that you've been eyeing and you will score in time. Free players you must know that time is all you need to get what you need here. A Hero that works well and highly favored among all players is Saveas which you will get pretty much any time you summon. He is one of the few blue that aren't thought of as Fodder.
Use that aspect as a free player and you've pretty much got your top free damage dealer. Other Heroes that will suit a free player are Estrilda, Nemora, Khasos, Shemira, Skreg and Seirus since you can use your Labyrinth points gained to by them in the lab shop. Labyrinth points are acquired by completing Arcane Labyrinth missions in the Dark Forest tab. You can also enter the store for through the Arcane Labyrinth it through the regular store. Here are the heroes listed.
Like mentioned earlier, do not spend diamonds on gear. There is a better option. When completing guild missions in the guild hall (Wrizz and Soren) you will get Guild points and tadaaaaaaa there's a Guild store tab as you can see above where Gear is strictly sold. LEGENDARY GEAR (nom nom nom nom) eat it up and be satisfied because I believe mythic gear will come at a certain point.
Store

Guild Store

Barracks

Labyrinth Store

Challenger Store
These are are all the stores featured in game for item and hero purchases.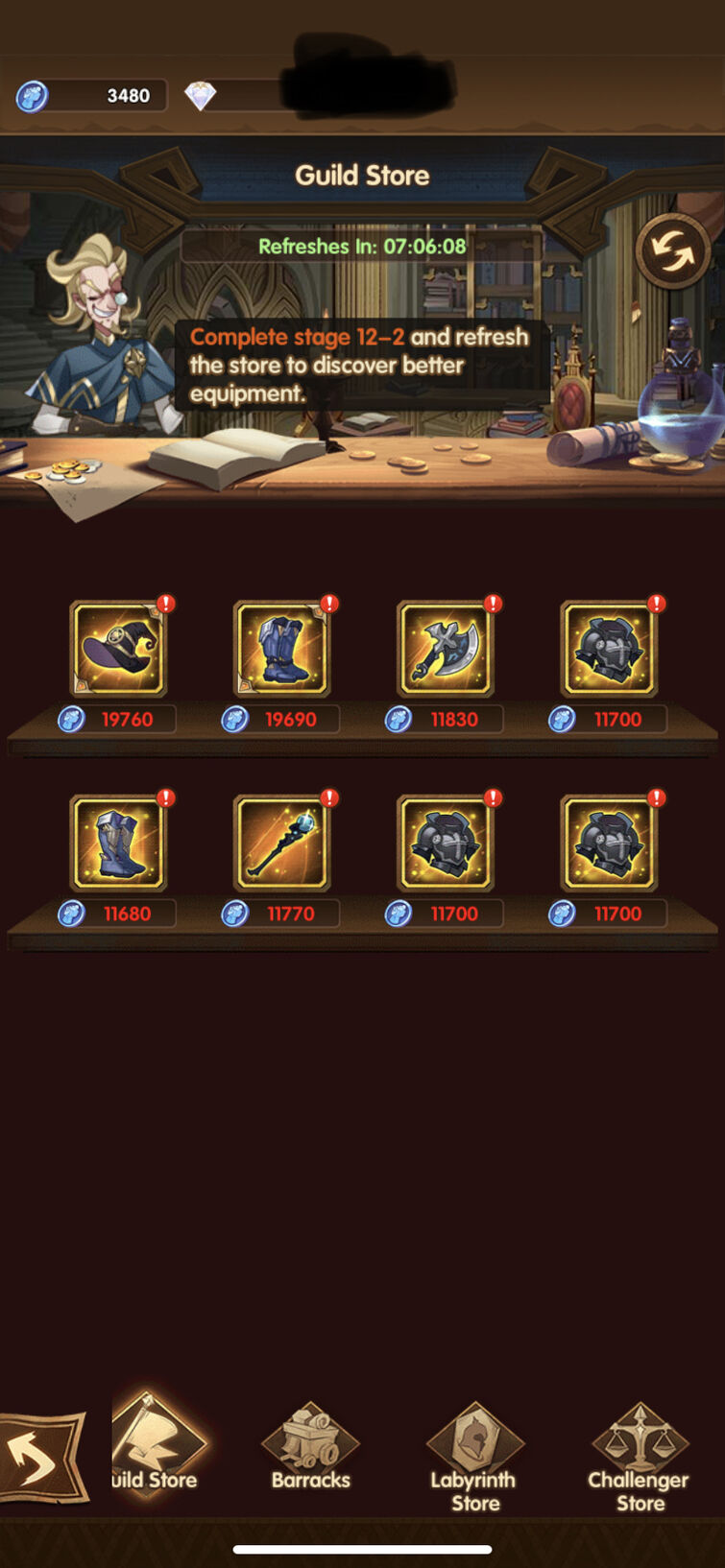 Most other free tips will be picked up in game but if you have any other questions theirs plenty information floating around or you can catch me in Game. Until then, let this light be shed. ?Prevail?